Interested in including Frank in a piece you're working on? You can find his contact information here.
---
Videos
onSecurity
onShore Security
October 2022
Securing Bridges
ITSPmagazine
August 2022
Security Happy Hour
Cyber Warrior Studios
November 2020
---
Podcasts
Enterprise Security Weekly
4 November 2021
Building Up the Blue Team – Frank McGovern – ESW #249 – Security Weekly
MSP 1337 Podcast
28 September 2021
Hoodies vs Suits
Veriato Insider
5 April 2021
Revisiting 5 Concerning Cyber Trends And Statistics Over The Past Year
CYDEFE Podcast
Episode 25
September 2020
Episode 25 The One With Frank McGovern — CyDefe
#10QPresents Podcast
Episode 39
August 2020
E039: FrankMcG by #10QPresents
---
Web Features and Press
Help Net Security
Zeljka Zorz
March 2022
Lapsus$ gang says it has breached Okta and Microsoft
InfoRiskToday
Soumik Ghosh
December 2021
Microsoft Teams' New Feature Sparks Security Concerns
97 Things Every Information Security Professional Should Know
Christina Morillo
O'Reilly Media, 2021, Pages 53-54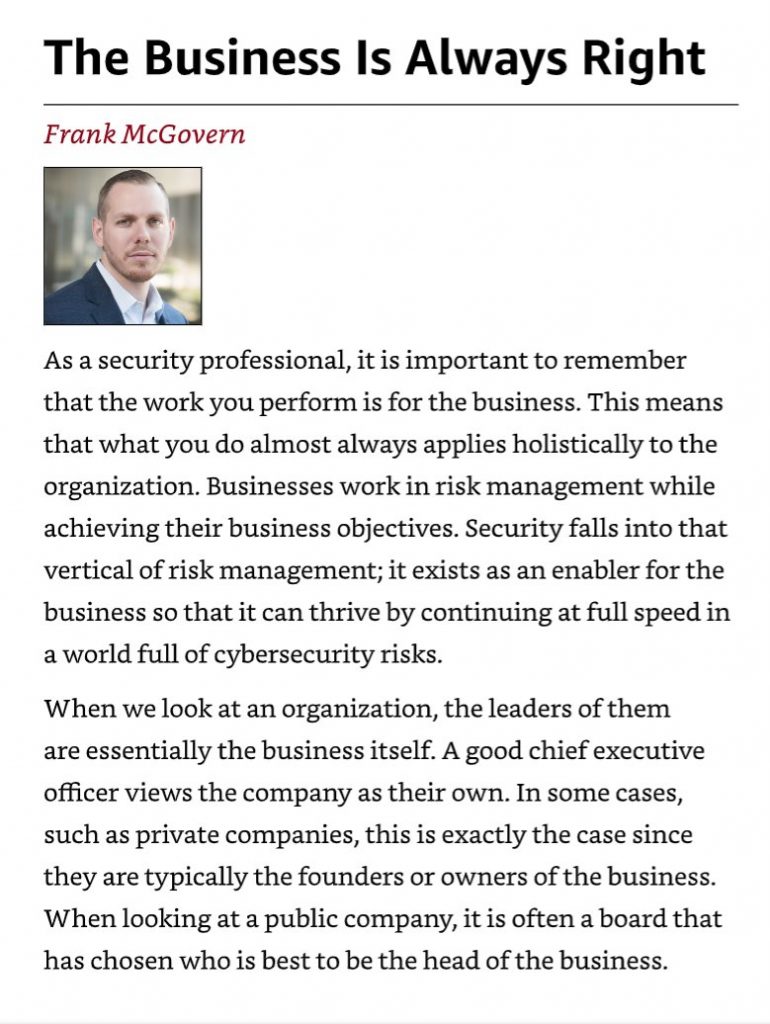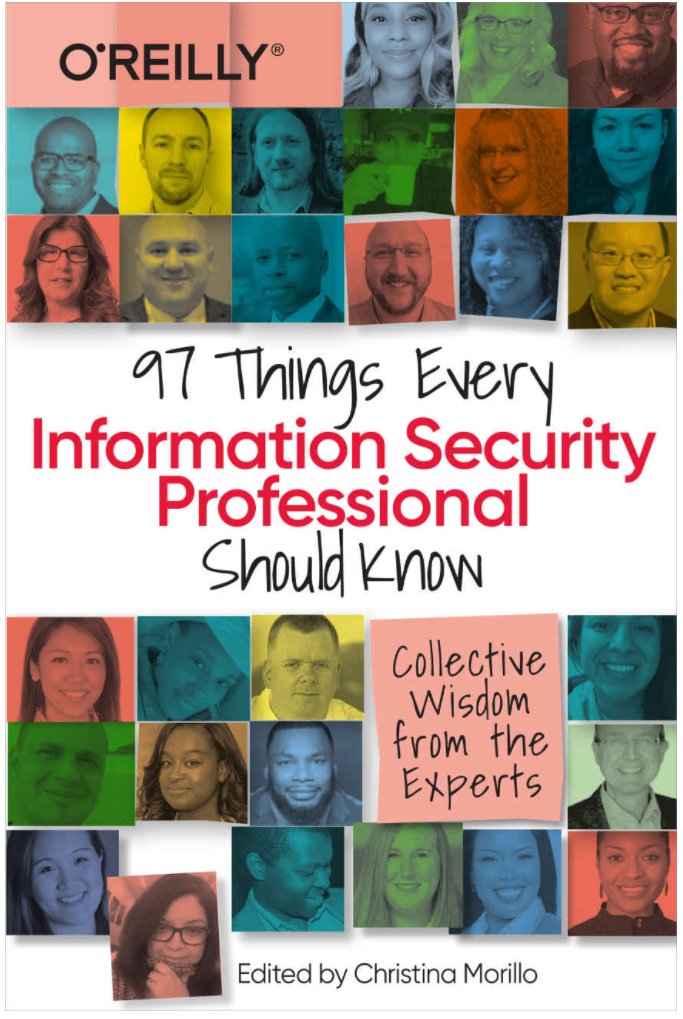 Tribe of Hackers Blue Team
Marcus J. Carey and Jennifer Jin
Wiley, 2020, Page 170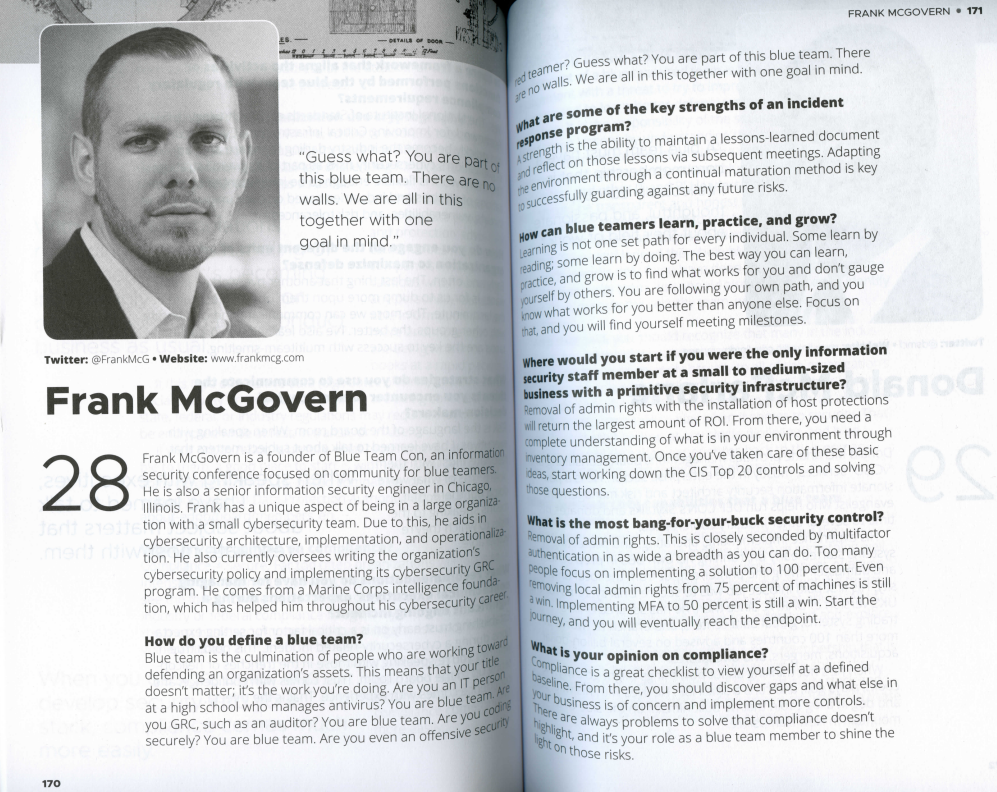 CSOOnline.com
Steve Ragan
October 2017
Scammers sent follow-up emails in Office 365 phishing campaign
---
Presentations
Blue Team Con 2021
August 2021
Presented on "Writing Cybersecurity Policies: You Don't Have to be Michael Jordan".
Link to Slides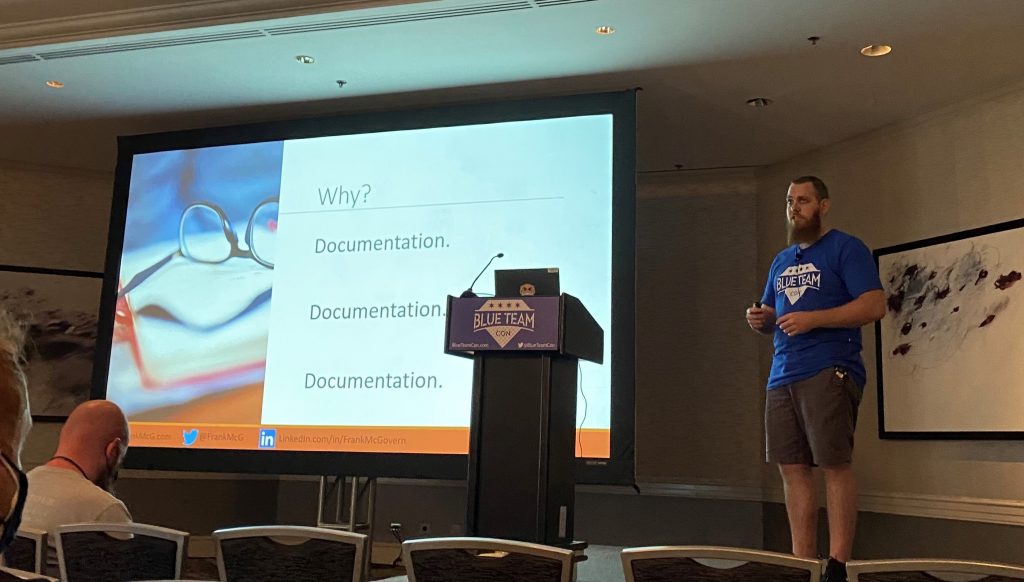 SeaSec East
January 2021
Presented on "Purchased Microsoft 365 E5, Now What?" post to attendees.